I'm not sure if I would have wanted this for my daughter when she was little or if I secretly want something like this for me now and catered to me the 30 year old lol Citrus Lane will deliver you a new surprise every month for your little one!
CHOOSE
Select the plan that works best for you and your little one. Plans start as low as $21 per month.
PERSONALIZE
Tell us your little one's age (from newborn to 3) so we pick just the right products for your box. Each box contains 4-5 items.
SURPRISE!
We deliver a special box to your door every month...and shipping is free!
HALF OFF!
New, first-time Citrus Lane subscribers who start a monthly subscription are eligible for half off! Just use the code BLOGHALF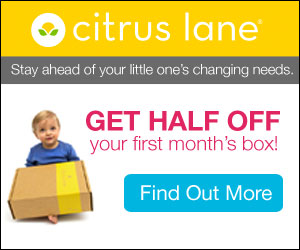 You'll receive items like toys, books, accessories, snacks and more! Worried about some of the quality of items?
You are only receive items that have been tested and approved by moms! Some of the past items include Melissa & Doug toys!
Just click on the picture above for more information and to get started! Would make a nice Easter Gift this year!